Complete Rig Fabrication - New Rig Manufacturing, Refurbish Rigs, Rig Ups
KAT Industries, Inc. has been manufacturing and refurbishing complete rig kits ranging from 750-3000 HP for over 15 years. In the past during the height of operations, KAT Industries produced a new rig every 2 months.
New Complete Rig Manufacturing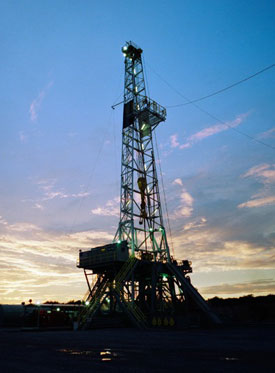 We have experience fabricating new complete rig kits for Box on Box Rigs and Self Elevating Rigs (e.g. Rocket Rig). Whether you need to minimize footprint or maximize mobility, we have experience manufacturing new rigs. We have built new complete rigs kits for Cactus Drilling and DeSoto Drilling. We understand the oilfield industry works on fast timetables. We have the capability to run 24 hours a day to meet our customers most stringent delivery deadlines.
Refurbish & Upgrade Drilling Rigs
Want to modernize your rig with new technology? We have experience refurbishing complete rig kits for installing top drives and skidding systems. Our experience also includes refurbishing complete rig kits for Box on Box Rigs, Self Elevating Rigs (e.g. Sling Shot), and Mobile Units. We have refurbished rigs for many drilling contractors including Helmrich & Payne International Drilling, Cactus Drilling, . Whether its converting a mechanical to an electrical rig, we've had experience refurbishing rigs of all varieties and sizes.
Rig Ups
In addition to manufacturing rig kits, KAT Industries, Inc. also provides Complete Rig Up services. We have been wholly responsible for rig ups for over 100 rigs (both new fabrication rig kits & refurbished rigs). KAT Industries provide both the facility and the experience for rig ups.